6 Winning Logo Design Trends for 2016 & Inspiration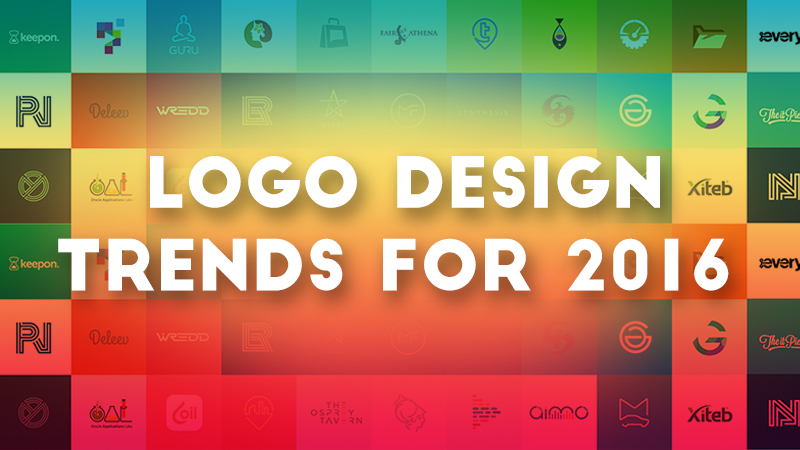 Logo Design is an Evolving process , Logo Design Trends keep on Changing with time and this year is no different there are 6 Winning Logo Design Trends for 2016 which will prove to be clear winners in terms of design for sure.
I have Explained all of the new 6 Logo design trends for 2016 Below in detail with tons of beautiful logo design examples to support my argument.
I will explain the latest design trends one by one listing them and after that there will be huge collection of Amazing Logo Designs from different designers so you guys can get inspiration for the Logo design trends of 2016.
Let's start…
1- Thin and Clean Monolines Logo Designs

Latest design trend in 2016 is minimalistic and clean look , What is more minimalist then line? Multiple line !
Forget the logo design with bulky stokes now whole logo designs are made of just lines and they look dope . Logo designs made from line or Monolines are latest in logo design trends of 2016. Logos look sharp , there is no issue of visibility in all sort of mediums , they print great and have very small footprint.
Logos with line are complex to design but they made up for all the hard work with their gorgeous and creative look.
2- Overlapping Logo Designs


Logo design with Overlapping shapes are also very much in . overlapping logo design trend started to gain traction in 2015 and it gain a lot of momentum since then , A Lot of designer produce some awesome logo designs using the overlapping effect for their designs. This is very much similar to the flat design trend but here most of the shapes are compact and overlap each other to make stunning designs. overlapping shapes are separated by a hint of shadow which give the illusion of dept and it looks beautiful.
3-Flat and Material Logo Design


Everyone , unless you are living under a rock or were in a Prison from past 2,3 years for ignoring Design trends, you will be familiar with the flat design or as google calls it Material Design Trend. Flat design is everywhere and it took the webs and design industry by storm . I have written about Flat design here you can see what it is all about.
Flat Logo design trend is going strong in 2016 for sure as more and more people are adopting this trend in Website design , App Design and Branding as well.
4-Handwriting & Calligraphy Logo Design trends 2016

Calligraphy is My LOVE ! 
I can write all day all night and next all day all night about Calligraphy and how much I like it. Elegant Design trend of Calligraphy and Handwriting logo design has really taken of in 2015 and now it is the most growing trend of 2016 for sure. I Love Arabic Calligraphy and I have done Tons of Logo and Branding Projects in Arabic Logo design and Calligraphy in past years. Calligraphy in logo design really shines as it gives a personal touch to the design Brand and Business . Calligraphic Logos are complex , Elegant , Memorable and Different from rest . What Else you need in a Logo design RIGHT?? 
5- Shaded Logo Designs

After the Amazing Popularity of Flat Logo Design trend Designs went creative , As simple colors and shadows were not enough . A new design trend with old gradients and lots of shaded color design got a new life and mixed with flat design a this new trend of Shaded logo designs became popular. These logos have very clean mix of colors Like 3D shapes and look stunning as well .
6- Vintage & Retro Logo Design Trend

Vintage and Retro Design trend is back in business too . You will see lot of designs made of big Badge like shapes thin lines around the Old looking Fonts lots of stars and dots too . This is all the beauty of Retro Design which is coming back with all its glory .
OK , These were the 6 Winning Logo DEsign Trends Of 2016 , Of course there are lots of other design trends are in business too like Negative space design but those are used less as compared to the above mentioned 6 design trends. 
Now as Promised I will share some Awesome logo Design Collections from various talented designers which used the latest design trends very neatly into their logo designs .
You will get some premium level inspiration from these logo designs and also will get tons of ideas for your next design projects in 2016 for sure.
The Logo designs featured below are from Duminda Perera , Misha Semin , Zmicier Krauchanka , Amazing Team , Marka Collective