Going all James Bond on Android with the new Hidden lock
The android is an amazing software which has versatile applications. The android much like the green efficiency engine is intriguing people a lot but people are apprehensive to step into the android pool. In order to increase the android popularity, android applications are surfacing much like the iphone applications. Another major application, which has recently been released into the market, which a lot of teenagers would be really eager to have would be the new android safety lock application. I know what comes to mind instantly that this might be some kind of pass code protection for the android phones but it isn't that. It's actually a much more fun and safer way to lock your android phones. Using this application, the screens are lock with a hidden lock! Get the fun in it? The android screen is locked by an invisible lock. Major break inns occur because the locks can be spotted and dismantled. But would the break in be that easy if the lock to be broken is hidden? This application does exactly that. It makes breaking into the phone an almost impassable task.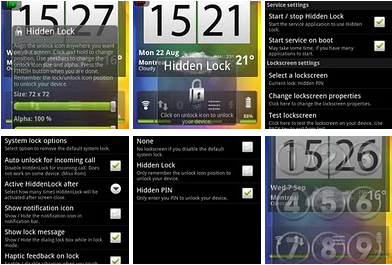 The application has to be activated first. The size of the lock to be hidden can be chosen, smaller the size of the lock greater the protection.  It then gives us the liberty to choose the place where the lock is to be hidden. (A smart tip, do not forget the location yourself. Because mostly when we intend to hide things well, we hide them in such places that we ourselves forget the hidden location.) The lock can be dragged anywhere on the screen. Once the satisfied place is chosen, then the lock is hidden. Once the hidden lock is activated, the phone lock can switch on and off with its designated button and the home screen does show. But no action what so ever can be done on the screen, in other words the screen is turned useless till the hidden lock is opened.